Details about this artist
Oluseun Anikulapo Kuti was born on 11 January 1983. He's commonly known as Seun Kuti. He's is a Nigerian musician, singer and the youngest son of famous afrobeat pioneer Fela Kuti. He showed interest in his father's music at the age of five, and at nine began opening Fela's shows, singing a select group of songs with Egypt 80 before his dad took the stage. As a developing saxophonist and percussionist, he entered the formal ranks of the band before he was 12. His father (Fela Kuti) passed in 1997, and Seun, in fulfillment of his father's wishes, assumed the mantle as head of Egypt 80; he has run it ever since.
Age: 36 years old
Music Career
During his teens, Kuti divided his time between the band and school, participating in African Football. From the time he was 18, he pursued music full-time. His shows were always a mix of his father's tunes and his own. Although the elder Kuti never performed his recorded work on-stage, Seun felt it important that these compositions get a live hearing and added them to his own set. Along the way, he began adding his own twist to the music, digging deep into various African traditions to reflect the continent's struggles and cultures. His debut recording, Seun Kuti & Fela's Egypt 80, was initially issued by WM Recordings in 2008, and later picked up for distribution by Mr. Bongo.
While many outside Africa criticized it for using the Egypt 80 name, critics embraced its musical drive and improvisational fervor. Mr. Bongo also released his Many Things set later that year, which drew more praise than criticism. He toured globally and played for enthusiastically receptive audiences in Detroit, New York, Los Angeles, Chicago, Philadelphia, Paris, London, Tokyo, and especially Lagos. In 2011, he cut From Africa with Fury: Rise for Knitting Factory Records.  It was co-produced with Brian Eno and John Reynolds. The set proved to be his breakthrough and landed on both the Billboard and digital International Charts.
Seun Kuti & Egypt 80 — the band still remained three-quarters of the group that played, protested, and were arrested with his father — toured the globe relentlessly, often playing multi-hour shows that were as heavy on group improvisation as they were on composition. The music never deviated from the overtly political. The younger Kuti continued to state that "Fela will always be number one," despite the fact that he was shifting and transforming Afrobeat with his own growing, evolving musical signature. In 2014, the group issued A Long Way to the Beginning. The set was a collaborative venture between the Knitting Factory and Kalakuta Sunrise labels.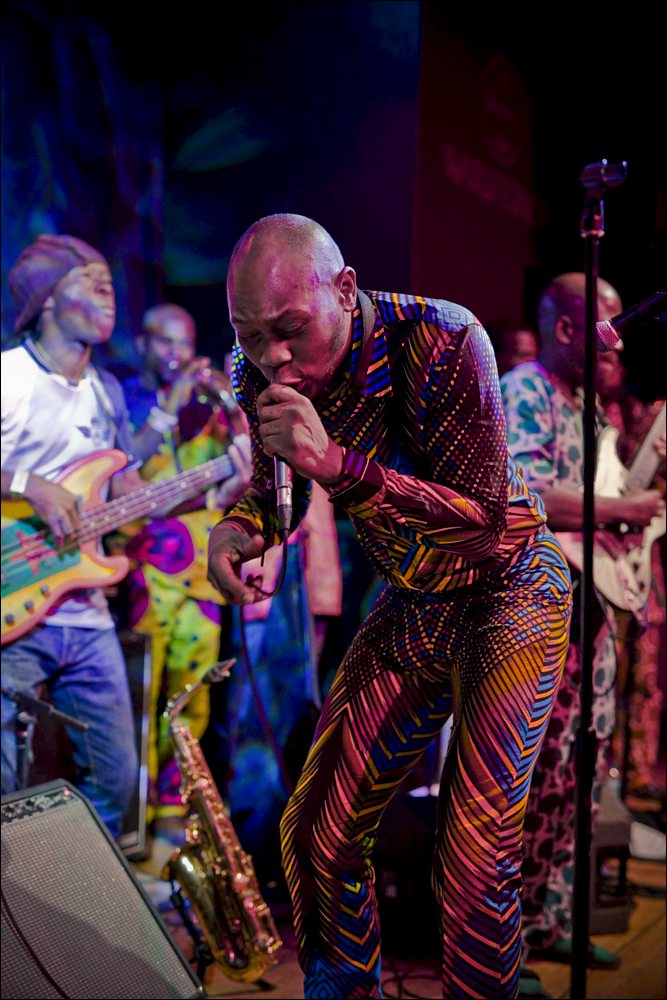 Produced by Robert Glasper, the set featured not only Egypt 80, but guest appearances from its producer, rappers M1 and Blitz the Ambassador, and German/Nigerian singer Nneka. After touring for more than a year, Seun Kuti & Egypt 80 took a long break (during which Kuti became a father) and began rehearsing again at Kalakuta, the rebuilt communal compound Fela built for his family and musicians. He envisioned a more expansive recording than anything he'd done in the past and again reached out to Glasper, this time as co-producer, for the purpose of cutting a diverse but anthemic political record, documenting struggles both emergent and historic.
Glasper also played on the sessions. The pair enlisted guitarist Carlos Santana to contribute to the title track single and video "Black Times," as well as vocalist Nai Palm of future-soul quartet Hiatus Kaiyote and rapper and activist Yasiin Bey (formerly known as Mos Def), who appeared elsewhere on the album. Black Times was issued by Strut in March of 2018.
Personal Life
He is featured in Calle 13's song "Todo se mueve" (Everything Moves), on their 2010 album Entren los que quieran. He participated actively in the Occupy Nigeria protests against the fuel subsidy removal policy of President Goodluck Jonathan in his native Nigeria, in January 2012. Seun Kuti is an atheist. He and his girlfriend Yetunde George Ademiluyi welcomed a baby girl on 16 December 2013 and named her Ifafunmike Adara Anikulapo-Kuti. In 2014, Seun Kuti was given an honorary invitation to perform live for the first time at the Industry Nite.
In 2014, Seun Kuti was given an honorary invitation to perform live for the first time at the Industry Nite. In 2018, Black Times, by Seun Kuti was nominated for the Grammys, under the World Music Category. This makes Seun the second child of the late Fela Anikulapo Kuti to be considered for this award, as his elder brother, Femi Kuti has been previously nominated in 2003, 2010, 2012 and 2013 without a win. In June 2019, Kuti was featured in the Visual Collaborative electronic catalog, under the Polaris series, he was interviewed on Pan-African awareness, his country, and music.